sign up for workshops
When you take a workshop class you get one-on-one attention and instruction from the companies that make your favorite craft products! You'll leave each class with new skills and a finished project that you'll be proud to show off!
Register for these workshops are open. Check back to see as more workshops are added to the schedule.
W101: DIY This Cute Fall Knit
Date: Saturday, September 29, 11:00am - 1:00pm
Sponsored by LoveKnitting, taught by Caroline Morant
Description: Learn how to make this basic knitted headband with LoveKnitting! We'll take you step by step through every stitch, and in no time you'll have your very own headband, complete with cute animal ears! It's the perfect adorable fall accessory. We'll provide needles, yarn, and a printed pattern so you can make as many headbands as you want! No previous knitting experience required.
W102: Westland Cuff
Date: Saturday, September 29, 11:00am - 1:00pm
Sponsored by Blu Arlan, taught by Toni Sweisford
Description: Fast & Fabulous Crafting! Our southwest inspired cuff design features small glass beads, hand carved vintage animal button, embroidery floss and the Stitchable Cuff by DMC. Learn "how to" stitch beaded it all together.
W103: Make Cool Embroidery Wall Art
Date: Saturday, September 29, 3:00pm - 5:00pm
Sponsored by Craft Jam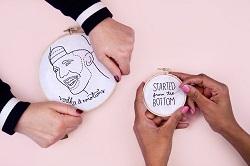 Description: Don't be spooked by stitching and join our Embroidery CraftJam. Learn the basic embroidery stitches and make some awesome wall art. In our beginner-friendly class we'll give you a rundown on the basics of this classic craft.
Taught by a certified JamMaster, in just under two-hours you'll learn:
how to prep your embroidery hoop for DIY magic
how to create and transfer your design onto fabric
the basics of selecting the perfect thread
how to start and end your embroidery project
how to create essential embroidery stitches, such as the running stitch, back stitch and chain stitch
We've got everything you need right here, including a colorful selection of threads and supplies. We have also a selection on beginner friendly embroidery patterns!
W104: Make a Beautiful Dreamcatcher
Date: Saturday, September 29, 3:00pm - 5:00pm
Sponsored by Craft Jam
Description: In this class you will learn:
the origin of dreamcatchers
what materials are used
how to weave your dreamcatcher
how to decorate your dreamcatcher
the meaning of different decoration materials
We will have all the supplies ready to build your personal dreamcatcher including hoop, suede, webbing material, and feathers, ribbons and beads for decoration. You can also bring personal objects and decorations you'd like to incorporate in your dreamcatcher to make it more personal and meaningful to you.
W201: Fall Foliage Wreath with the Paper House Autumn Woods Collection
Date: Sunday, September 30, 11:00am - 1:00pm
Sponsored by Paper House Productions
Join the Paper House team and create a beautiful home decor wreath using our Autumn Woods scrapbook collection. You will learn how to make paper flowers, paper leaves, and even a fun way to make a ribbon effect with paper bags!
W202: Make an Etched Glass & Vinyl Vase and Create Foiled Paper Hyacinth Flowers
Date: Sunday, September 30, 11:00am - 1:00pm
Sponsored by Scraps of Reflection, Taught by Erin Reed
Learn 3 fun and easy techniques of etching glass, adding vinyl to glass, and creating foil hyacinths. This vase and flowers are perfect for any occasion just change up the color of the flowers! All materials are included for you to make a beautiful decor piece for your home.
W204: Crochet Rag Doll Characters
Date: Sunday, September 30, 3:00pm - 5:00pm
Sponsored by Underground Crafter, Taught by Marie Segares
Use simple crochet stitches to make adorable rag doll characters to use as gift tags, ornaments, or softies for children. We'll walk through every stitch, even for crochet beginners, so you can create your own character by the end of the workshop. You'll also get tips for customizing your version to look like different animals, choosing yarn "skin tones" to make people, and instructions for using craft eyes or embroidery floss to make features. Supply kit includes everything you need to make your own rag doll character, including yarn, hooks, notions, fiber filling, and assorted craft eyes and noses. You'll also get a handout to help you customize your next characters made at home.